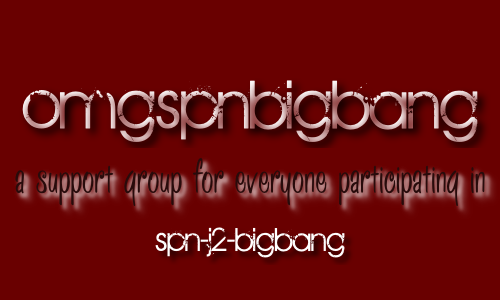 So, you signed up for this year's
spn_j2_bigbang
—and now you're wondering, what the hell was I thinking?
Don't worry! We here at
omgspnbigbang
know how you feel, and we're here for you.
Do you need a beta? Have a question about what driving the backroads of Texas in the summer is really like? Just need a place to vent and get some motivation? This is the place for you!
Take a look at the links below. Introduce yourself. Sign up to be a subject expert and share your wisdom. Ask for help when you need it. And most importantly—keep writing! We know you can do it!
If you have any questions or suggestions, feel free to PM your mod
paleogymnast
.
Happy writing!
Share your ideas, frustrations, and victories, or take advantage of the many resources this community has to offer:
Introduction Post [Updated! for 2018]
Awesome Icons! [Updated! for 2018] | Writing and Art Resources
Beta Resources | Art Beta Resources
Beta/Alpha/Cheerleader Match-up Post [Updated! for 2018]